Free Your Feedback & the Rest Will Follow
Research suggests a majority of employees don't receive the feedback they need to perform better at work, causing companies to lose time, talent and money.
Radical Candor and Second City Works have teamed up to tackle the problem, and we've come up with a digital solution that's nothing short of hilarious.
Packed with the irreverent humor The Second City comedy writers are known for, The Feedback Loop teaches your team Radical Candor's proven feedback framework to help you get more stuff done with less drama, retain top talent and increase revenue.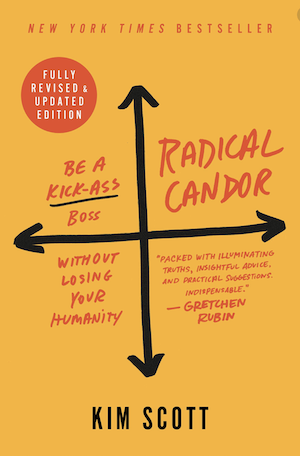 Based on Proven Practices from
the Bestseller Radical Candor
What's feedback got to do with it? If it's running a successful business or building strong relationships, effective feedback is everything.
Kim Scott's proven Radical Candor framework is based on Caring Personally and Challenging Directly to give guidance and feedback that's kind, clear, specific and sincere.
Coupled with the comedic storytelling that's synonymous with The Second City, The Feedback Loop is the only virtual workplace "training" that's equal parts fresh, fun and effective.
Have a team that doesn't fit neatly into our plans? No problem! Email us at [email protected] and we will get you what you need!